GTA Logic Technology Platform
Technology Platform:
Through technology-licensing and independent development, GTA has the production capability from 90nm to 28nm logic process. By adding specified IP and special processes, it covers BCD, HVCMOS, MCU, CIS, eNVM and other integrated circuit products, which are widely used in automotive electronic, power management(PMIC), display drivers, LED, CIS devices, consumer electronics and etc.
Technology Develop Roadmap: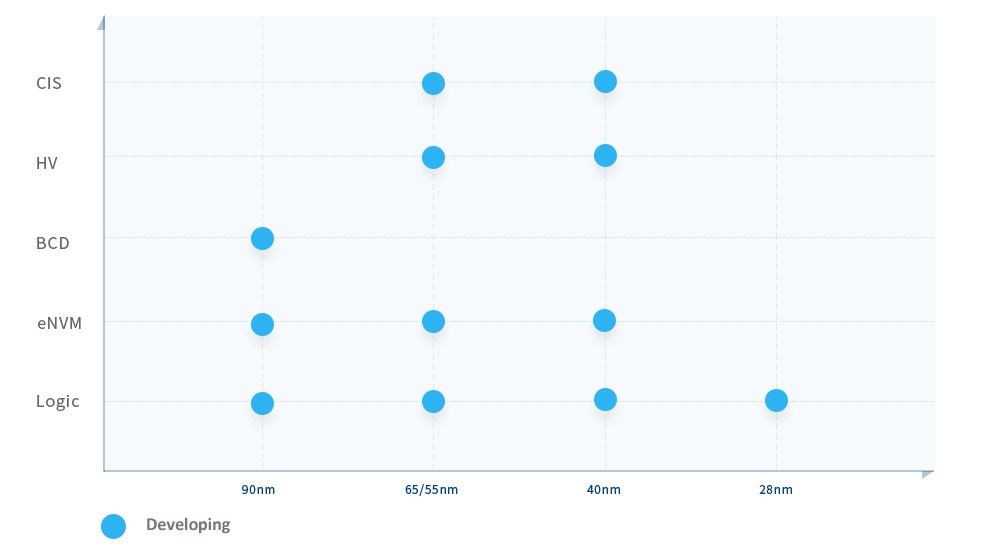 40nm Technology:
GTA has a 40nm Low Power technology platform with core component voltage of 1.1V, three different threshold voltages and input/output device voltage of 2.5V through technology authorization to meet market design requirements. The 40nm logic process combines advanced immersion lithography, stress engineering technique, ultra shallow junction and low-k dielectric for power and performance optimization.

GTA 40nm LP process provides a good combination of high performance and low power solution. The diversity application scenarios covers smartphone, Bluetooth, digital television, set-top box, game consoles and wireless connectivity applications.
65/55nm Technology:
1.Technology Overview
GTA 65 nm/55 nm Low-Power Logic Process provides 1.2 V core device voltage with three threshold voltages and 5V, 3.3V and/or 2.5V I/O device. The characteristics are available to meet the flexible design requirements of the market.

2.Features:
Core Device: 1.2 V

Low-k(3.0) dielectric and Copper back-end interconnect integration technology

Ni silicide process

I/O Device: 5 V/3.3V/2.5V
3.Application Usage:
GTA 65nm/55nm Low-Power Logic Process targets applications,of automotive, power management, driving and other scenarios.